Hello my beloved people, Yours Truly is right here today to fulfill one of the promises I made. Could you make a wild guess of where we are headed to? I don't know if you are as thrilled as I am!!Today, we are touring Western Kenya specifically Port Victoria!! I know even in your wildest guess, you didn't imagine us making a trip to this place. Now brace yourself for some amazing fun as we take a trip to this beautiful land.
Port Victoria is a small town in Western Kenya, Busia County. This small town is located on the shores of Lake Victoria just at the border of Kenya and Uganda. The town has a very small population of about 6,000 people and fishing is the main economic activity of the people.
Port, as it is commonly known, is located 50 km away from Busia town and guess in which sub county, Budalang'i sub county!! Hahaha, I know the first thing that resurfaced in your mind when you heard that was, what good thing can come from Budalang'i apart from floods? To tell you the truth, you have been missing a lot if you haven't considered this place on your bucket list.
I got to know of this place during the Isambo Beach Carnival. It is an annual festival that incorporates activities that promote the Luhya culture and it is organized by the leaders from Port Victoria. This festival has expanded its horizons and it now incorporates international visitors who have enhanced diversity in the activities taking place.
Alright! Let us begin with what you are going to carry for your trip so that you can be comfortable. Something to note, you need to make your travel bags as light as possible when you are travelling, so as to avoid any inconveniences during your trip.
Carry some light clothes since Port is a little bit hot. For ladies, carry some light dresses, tops, shorts and trousers and some sandals. For the gents, bring along some shorts and light t-shirts and some sandals too. Also, a cap and sun glasses would do to protect your face and eyes from the sun. Don't forget to carry your appetites too beloved ones… remember where you are going.
Probably you are asking what shall make me tick in this place. How will I have fun?
Port has a beautiful beach where the breeze is made up of fresh natural air. It is an amazing place to relax, refresh and rejuvenate for the tasks ahead. Most of these photos were taken at Muhondo bay where the Isambo Beach Festival was held, Che's Bay.
A place to hang out with your buddies on an evening and catch up on the different lovely things going on in your lives, this is the place to be. Just grab a glass of wine or juice and the camping seats and chat the evening away. Thank me later.
Talking of sunsets by the lake shore…
I know here am reaching out to souls that find the sunset captivating and just adorable. Yes! You there. The view of the sunset and the serenity here is one to die for. The lake is just so beautiful at this time.
In Port Victoria too, you get to experience a boat ride in the beautiful lake. I know some of you who haven't been to the lake only think of the water hyacinth they have heard about. But trust me, there is more to this lake than meets the eye beloved.
In one of boats during a boat ride across the lake.
During the boat ride, we came across these young energetic boys who were rowing to Uganda. They took turns in the rowing and though it was tiresome for them, it seemed fun since they were in it together.
To be honest, this was the icing on the cake for me on this getaway. Getting into the lake and being hit by the gentle breeze was so amazing and it gave me the assurance that I had made the right decision to come to this place. I dare you to try this out and you won't be disappointed.
Boat racing is also a common thing to the revelers of this area and it is usually a lively activity that you would not want to miss. Let me give you a taste of it.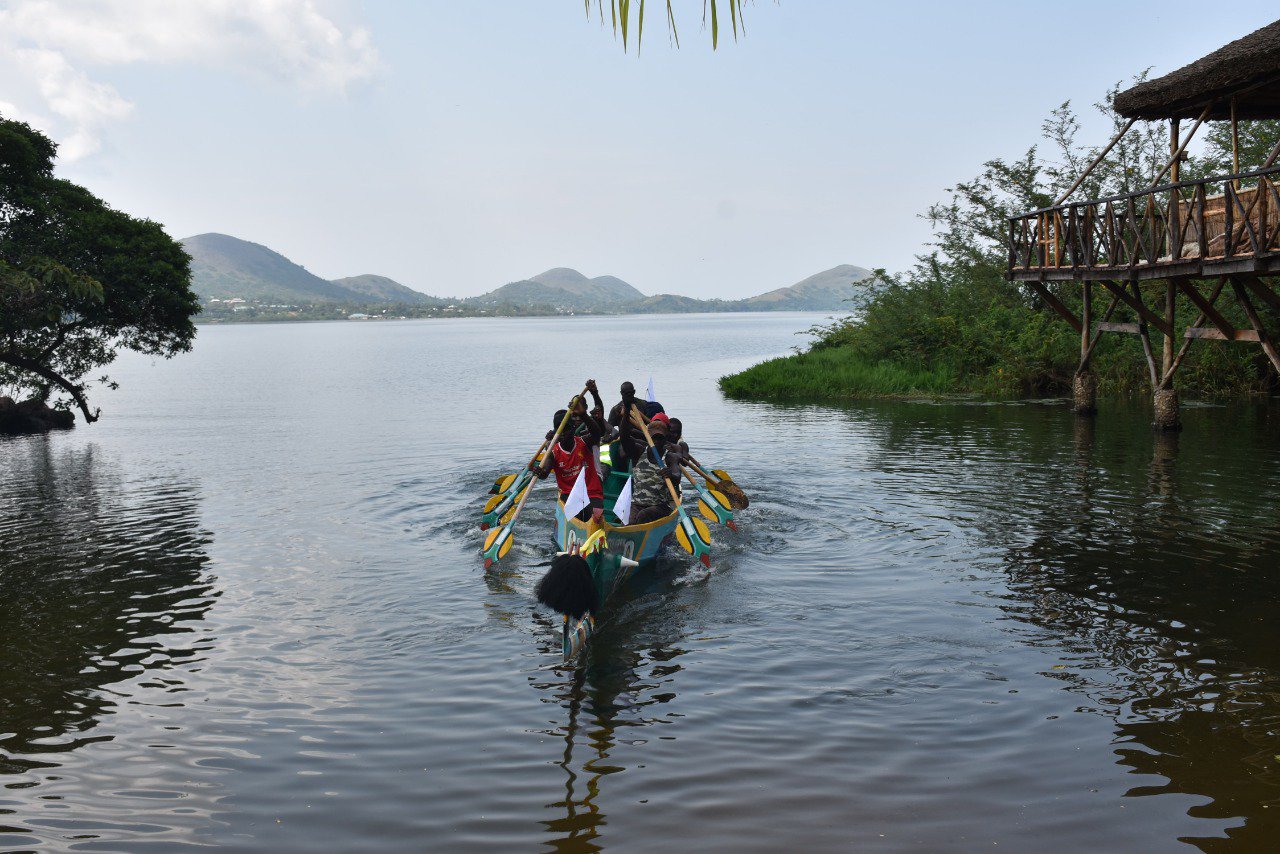 I know by now you are wondering why you were asked to carry your appetite along. Beloved, Port Victoria is home to the best indigenous food you would ever think about.
This is ugali, fish and indigenous vegetables. A meal to savor beloved one.
These are sweet potatoes and mashed ground nuts. Unbelievable right! The people of Port Victoria adopted this meal from their neighbors, the Ugandan people where it is very popular .Hehe, it is commonly set apart for the men in the community because it gives a lot of energy. But luckily, I got to try it out and it is quite a delicacy! I am sure you would love to have a taste of this. Be my guest!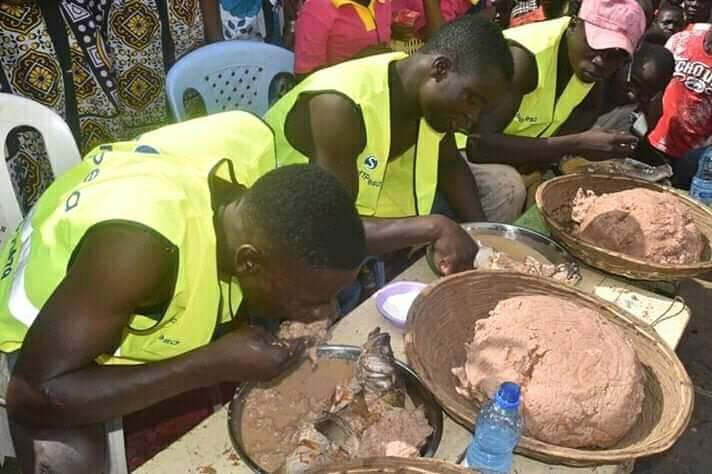 This was to just give you a taste of this place and to ignite that desire in you to visit Port Victoria and you know what, this is just a tip of the ice berg. There is a lot for you to enjoy in this part of the country.
I leave you with a challenge; get out there and explore!! Get out of your comfort zone and know the world, and Che's Bay is part of it. So is Budalang'i, Port Victoria and the Isambo Beach Festival. Save, plan and actualize! For now, A TOUTE A L'HEURE!