The government has declared next Friday a public holiday as the country joins the Muslim family to mark the end of the holy month of Ramadan.
Interior Cabinet Secretary Fred Matiang'i in a gazette notice, declared May 14, 2021 a national holiday to celebrate Idd-Ul-Fitr.
"It is notified for the general information of the public that the Cabinet Secretary for Interior and Co-ordination of National Government, in exercise of the powers conferred by section 2(1) of the Public Holidays Act, declares that Friday, the 14th May, 2021, shall be a public holiday to mark Idd-Ul-Fitr," the Ministry of Interior said in gazette notice No. 4205 dated May 5, 2021.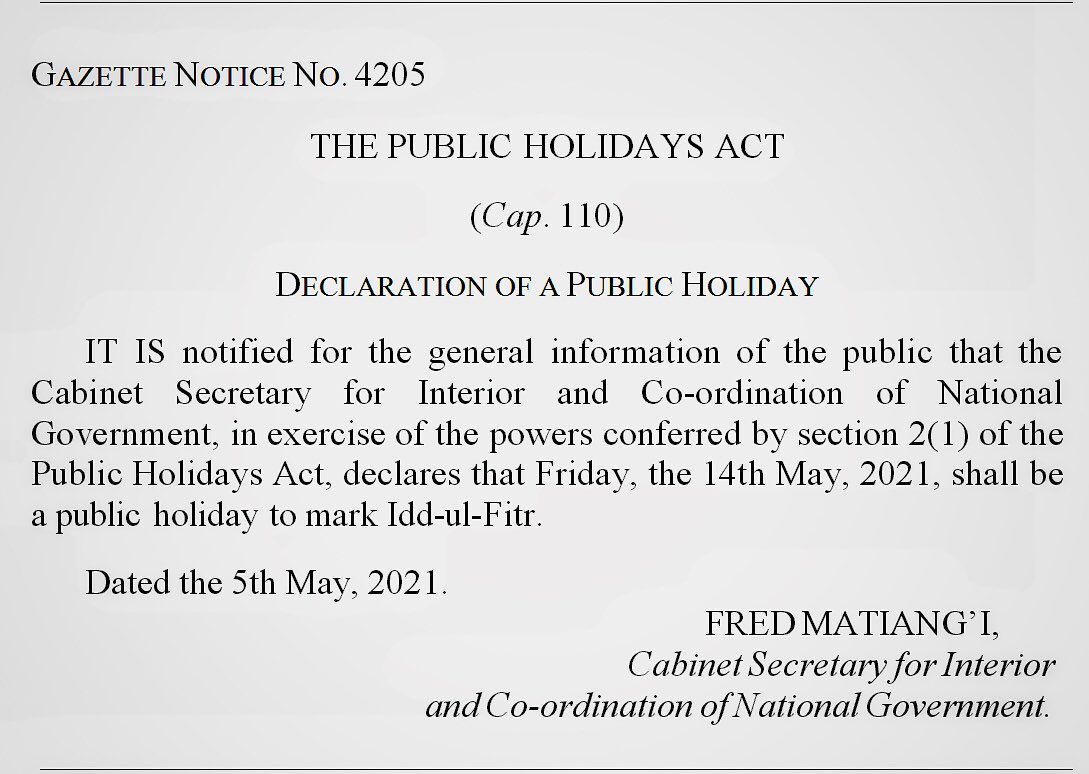 The Muslim faithful have marked the holy month through prayer and fasting from Tuesday April 13, 2021 with the month expected to end on the evening of Thursday, May 13, followed by Idd-Ul-Fitr celebrations on Friday.
This is the second time the Islam community is having Ramadan amidst the COVID-19 pandemic that stepped foot in Kenya in March 2020.
Socialization and sharing have always been a key component of the holy month but the pandemic has denied the Islam community the right to commune and mark events associated with Ramadan.
Worse off places of worship among them mosques are often at risk of closure with the faithful left to hold prayers in their homes as opposed to gathering in mosques to pray and break the fast.