Former Tahidi High actor Peter Kamau Kinuthia alias Omosh Kizangira has spoken amid backlash from Kenyans over his second appeal for help.
In an interview on TV47 on Friday morning show Morning Cafe, the actor claimed that he had received less than a million shillings after reached out to Kenyans.
The actor plead for more help as some of those that had promised to stand with him did not.
"People pledged money that I have never received. I got less than a million which I used to settle my debts. Let someone just buy me a camera, tripod and two lights, then I will be good," he told Linda Alela, the Morning Cafe show host.
Omosh's sentiments rubbed Kenyans the wrong way, questioning his level of entitlement with radio personality Felix Odiwuor alias Jalang'o him a person who does not take lessons from his life experiences.
"Some people never learn, I can easily assure you that Omosh got more than a million from my show," Jalang'o said.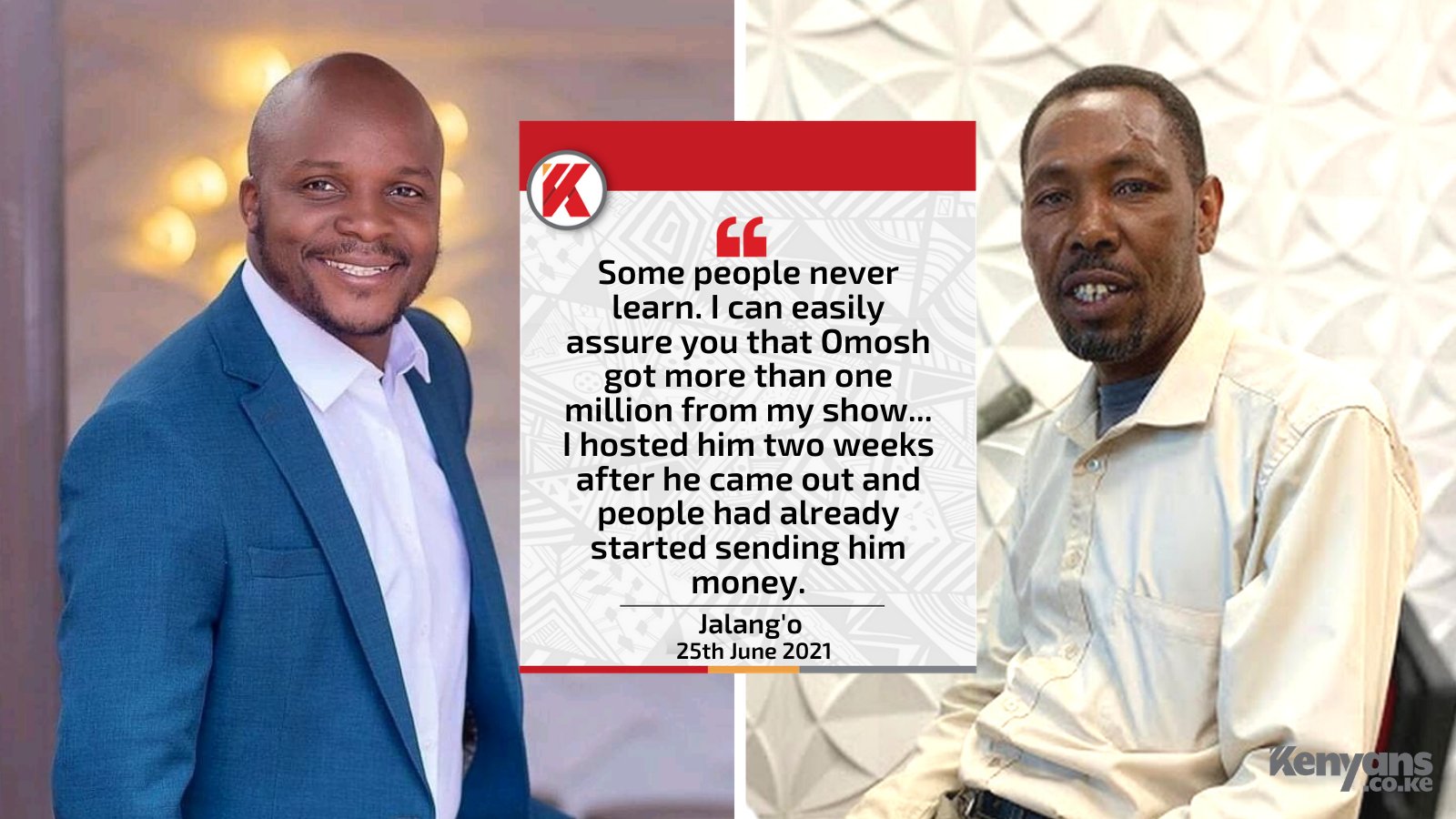 In bid to control the damage, the thespian has recorded a video clip which he assures Kenyans he got help.
"This Omosh Kizangira. Men, am trending. I am from some interview and am trending like hell.
Come on guys, what is it? Guys you came through and saved me. A house is here now standing. Thank you so much for what you did," he said.
Omosh however stood by his sentiments on TV47, claiming he was irked by claims that he had squandered the money, calling for bloggers to give him a break.
Ex-Tahidi High actor Omosh claims well-wishers didn't honour their pledges when he was down in the dregs.
His claim has stirred controversy. Radio presenter Jalang'o discounts the claims: "I can easily assure that Omosh got more than 1m from my show…!" #TV47News pic.twitter.com/DQeqCB7mN4

— TV47 Kenya (@tv47ke) June 25, 2021
"But now what pains me is you are asking where I took the money! I sorted out problems. I was in a lot of problems.  But problems don't end. Is it so? But I was asking, you can, but am not forcing. Bloggers please, let me be. Am okay. I was sorted. Am okay," he said.
The actor went on to invite Kenyans to a party he will be opening a house that was constructed for him by well-wishers after his appeal.
"Will you come for the bash? We are slaughtering a goat when opening the house. Very soon. That is the story that should trend."