Gospel musician Embarambamba was on Monday almost run over by a speeding motorbike while shooting a new video for his music that continues to infiltrate diffrerent Kenyan quarters due to his bizarre theatrics.

The musician who prides himself in doing crazy acrobatics, was shooting at the busy Southern Bypass, when he survived the accident by a whisker, going by the video seen by Kenyan Breaking KE.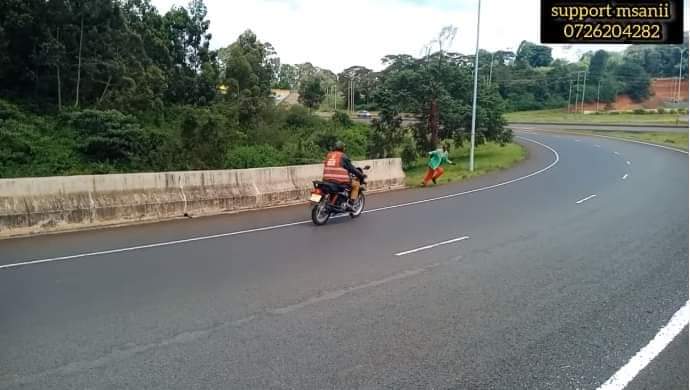 The musician who mostly sings in the Kisii language has made a name for himself by releasing videos in which he is often seen unleashing dancing styles and jumping on tress, buildings and even riding on top of animals.
Monday's sparked a lot of reactions from Kenyans, fans and critics, who claim it was high time the ditched his style of music which others blatantly branded 'madness'.
"This must stop, Embarambamba must, stop jeopardizing his life in the name doing music" said one KOT.
Another concerned fan by the name Makteja was of idea that Embarambamba had gained enough publicity and should change to doing good safer music videos as he still stands a chance to be supported.
A fortnight ago, Kenya Film Classification Board chairman Ezekiel Mutua came out to advice the musician to consider new ways of using talent rather than embracing the 'dirty' tricks and moves he pulls in his videos.
"I have a feeling that Embarambara is a danger to himself and that his fans could be cheering him to self-destruction. Is this style sustainable? Is it even sane? Unless he's superhuman, this guy will hurt himself. Someone, please stop him!" the KFCB boss said in a tweet.
Below is the link to the video:
17:27 Embarambamba almost hit by a bobaboda and vehicles while acting on a busy Nairobi Highway. | pic.twitter.com/8pxcHNVtpg via @ThisIsBett

— Ma3Route (@Ma3Route) May 3, 2021