Justice David Njagi Marete sparked reactions on Monday morning after pleading with one of the panelists to ask him at least a question.
Marete was the first judge to appear before the Judicial Service Commission in the search for a new Supreme Court Judge to replace the retired Justice Jackton Boma Ojwang.
Justice Marete, known for his humorous approach in answering questions was facing the commission for the second time in two weeks, after failing in his attempt to succeed retired Chief Justice David Maraga.
Marete was left puzzled after JSC Commissioner Mohammed Warsame wished him luck and refrained from asking him any questions.
"No, no, you must ask at least one question," Marete replied.
"You and I make this place happy, why would you want to back down," He added.
He also promised to bring collegiality to the bench if chosen for the job.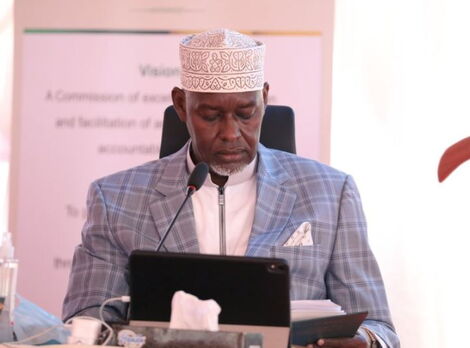 The Judge, who is considered disabled owing to his poor vision also comes with his fair share of drama. He once stopped his court proceedings to summon people who were in the hallway for making noise.
The self proclaimed peacemaker has also faced nine petitions seeking his removal from the high Court bench, all of which did not succeed.
The interviews in search of Justice Ojwang's replacement will continue tomorrow and Justice Marete will be hoping he has done enough to beat his competitors this time round.