The Kenya Film Classification Board (KFCB) has banned the film "I am Samuel" on grounds of promoting homosexuality.

In a statement dated September 23, 2021, KFCB's acting CEO Chris Wambua stated that the decision to ban the film produced by a Kenyan director Peter Murimi was reached upon after being deemed to promote a "gay theme" which goes against article 45 of the Kenyan constitution, which recognizes the family as the basic unit of society.

"In the course of examining a film titled: I am Samuel, which was submitted to the Board for classification, the Board noted a clear and deliberate attempt by the producer, to promote same-sex marriage as an acceptable way of life," reads the statement in part.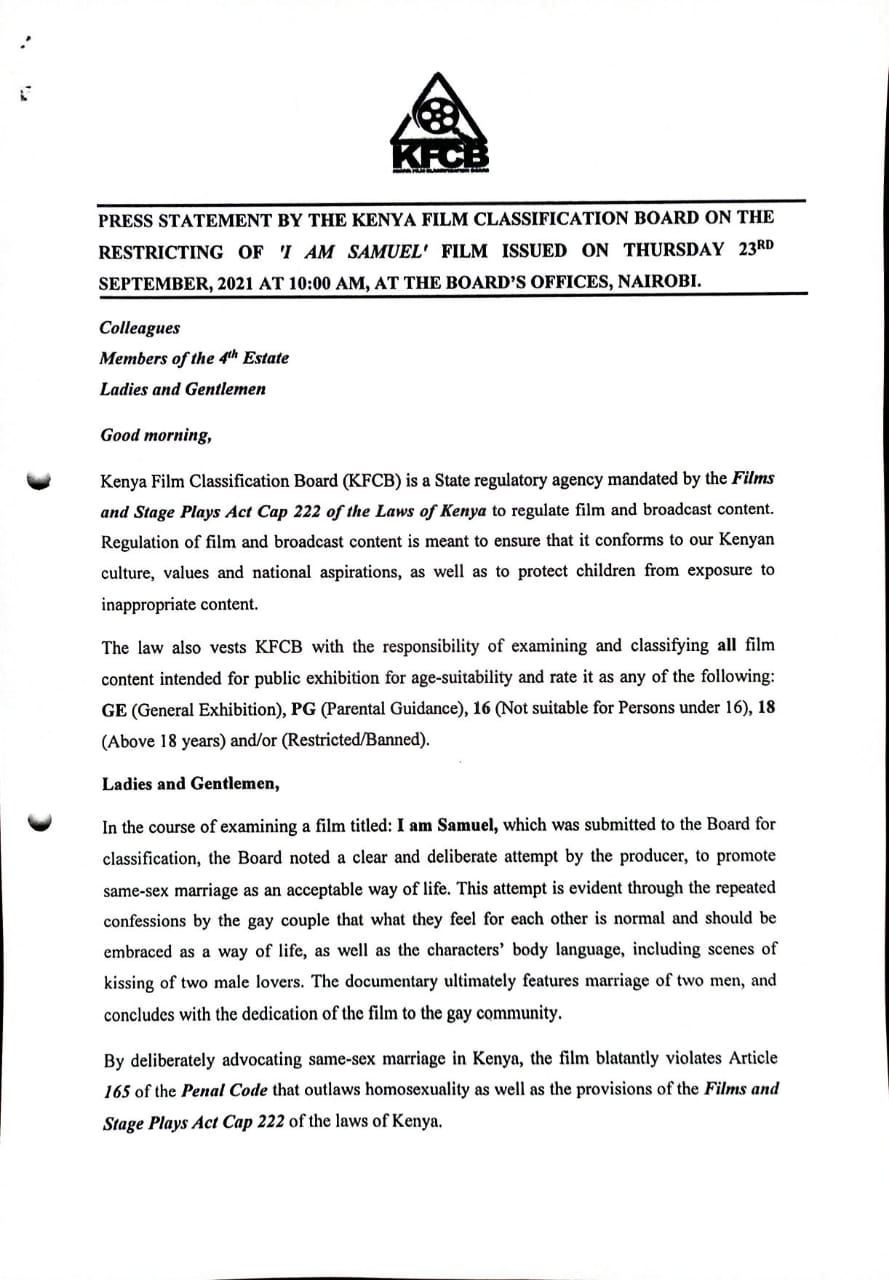 Produced in 2020, I am Samuel features Kenyan-born Samuel Asilikwa highlighting his life experiences, where he comes out to his parents to introduce his partner Alex.
The film further explores the ups and downs Samuel endured with his partner that included rejection from family members.
It climaxes with how the two defeated rejection in search of their togetherness and happiness.
Wambua reminded filmmakers to strictly adhere to the provisions of the Films and Stage Plays Act Cap222 of the laws of Kenya by acquiring filming licenses as well as submitting their content for examination and classification for age suitability to avoid a tussle with the commission.
The CEO noted that any attempts to air the film within the territory of Kenya is now deemed illegal.
PRESS STATEMENT BY THE KENYA FILM CLASSIFICATION BOARD ON THE RESTRICTING OF 'I AM SAMUEL' FILM ISSUED ON THURSDAY 23RD SEPTEMBER, 2021 AT 10:00 AM, AT THE BOARD'S OFFICES, NAIROBI. @ChrisWambua_ @NellyMuluka #KFCBbansGayFilm pic.twitter.com/3vGlIw7UBg

— KFCB (@InfoKfcb) September 23, 2021