East African neighbours Kenya and Tanzania on Tuesday signed a billion dollar pipeline deal in what was Samia Suluhu Hassan's first official visit to Kenya as Tanzania's head of state.
The 100 billion shillings deal for the transportation of liquefied petroleum gas from Mombasa to Dar es Salaam was signed during a two-hour meeting with President Uhuru Kenyatta in Nairobi, followed by a joint address at State House.
"That is a long-term project and we are thankful that today we have signed an agreement and what remains is implementation," Suluhu said in her address.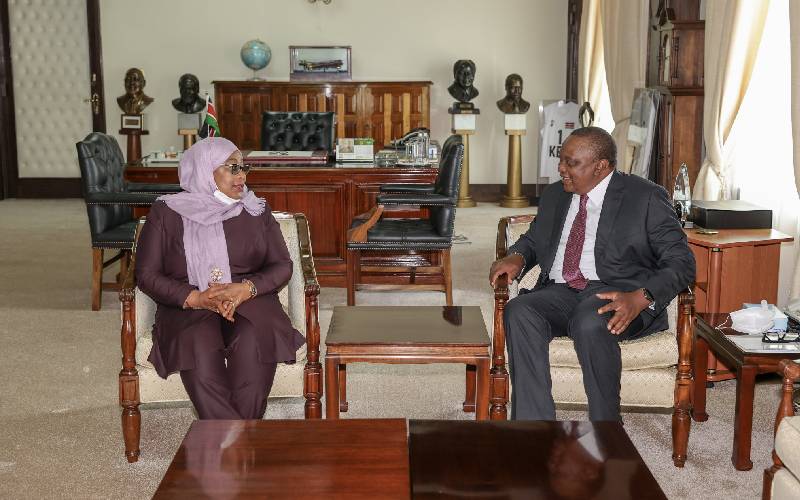 600-kilometre long pipeline will pass through the port city of Tanga to Mombasa and will carry natural gas from the Songo Songo Island and the Mnazi Bay gas fields in southern Tanzania near the border with Mozambique.
Suluhu cited  the need of having a good working environment with neighbouring countries noting that Kenya is a leading investor in Tanzania.
Her Kenyan counterpart however drummed up support for the strengthening of the East African Community that has suffered a stab in the back in the recent past owing to the iron fist adopted by her predecessor, the late John Pombe Magufuli.
"We are not only neighbours geographically, but have other elements in common such as culture, language and shared heritage," Uhuru said.
In a move to boost relations between the two countries, Samia invited Uhuru to Tanzania for the December independence day when the country will celebrate 60 years of independence while also pleding to work jointly to fight the novel coronavirus.